New Look and Extra Space for Village House near Beaune
Nov 2010 - Sébastien Rabatel - TRAVAUX.COM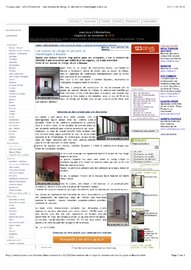 When a house becomes too small for its occupants, it's the right moment to think about a renovation to maximize space, or even build an extension.
After an initial attempt at renovation which failed, one family in a Burgundian village near Beaune decided to try again to open up the house and improve their living space. To undertake the job, they called on Caroline Gigandet, interior decorator for Burgundy Home & Services.
She proposed restructuring the ground floor in order to gain space. In front of the house, an unheated and rarely used glassed-in veranda was torn down and replaced with a spacious, insulated version, with a 90 cm wall at its base. The double glazing used argon gas between the panes to maximize the insulating effect.
The kitchen was constructed inside this new space, based on a central island around which the space could flow. The sink, pots and pans and cupboards were built into the island with high stools facing the bay window providing a light, airy informal dining space. Laminated work tops gave the effect of polished concrete. The oven was built into a white, lacquered cupboard along with the microwave and the fridge. As a stylish backdrop, a section of wall was painted red, one of just three colors used to coordinate the renovation of the ground floor. Limiting the palette of colors in this way avoided any risk of visual overload in this open-plan space.
The dining area was also done with a section of wall in the "Rouge Magnolia" color by Levis. All paints used were acrylic, matt and washable. For the sprung parquet flooring, Caroline chose the brand Quick-Step in oak ceruse color.

In the hallway, a partition wall was taken down and a customized walk-in closet replaced the old kitchen. The entrance way was made to double as a playroom for the children with a blackboard applied to the wall with special paint.
The works also gave the opportunity to rationalize the plumbing. Many craftspeople were involved in the project: masons, carpenters, painters, plumbers, kitchen specialists and roofers.
The cost for the entire renovation with decor, new kitchen and plumbing was approximately 100 000 euros. The main works accounted for much of this budget and involved piercing walls, pouring the screed, and plaster-boarding. The new, 90 m2 ground floor has been made more open and more spacious, all in line with the owner's tastes.
Sébastien Rabatel - le 10-11-2010 - TRAVAUX.COM
Read press article in French