Burgundy Home & Services - Services tailored to international requirements
Press report - ECO PLUS 21 - Sept 2008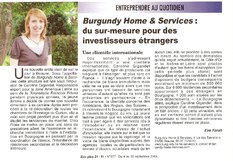 This article appeared in the magazine ECO PLUS 21 - Septembre 2008


An international clientele
A new entity has just seen the light of day in Beaune. Under the name of Burgundy Home & Services, this company has been founded by Caroline Gigandet. Having been in charge of exports to Latin America for barrel maker François Frères for serveral years, the young entrepreneur decided to add a new dimension to her career. She re-decorated all the bedrooms for luxury hotel l'Ermitage de Corton and spent a year studying market trends while her ideas matured. Then it became clear: she would set up a property search company offering services including renovation coordination, interior decoration and anything related to helping set up home.
Her client base is international. Caroline Gigandet explained that this level of service is usual abroad but rare now in France. "Often agents help find a property, but it ends there, even if the customer needs additional services by virtue of the fact they don't live permanently in the area."
It is due to this that the clientele for Burgundy Home & Services is largely Americans, English and Swiss who know the region due to the wine business. Their requirements involve not just property finding services but custodial services also. For house purchases, Caroline's mission is to find the property, facilitate the visit by liaising with local agencies or individuals, and facilitate the conveyancing with the property solicitor or 'notaire'.
Demand at the moment is mostly within the Côte d'Or and the Saône-et-Loire departments. It's the high end of the market which is most acitve in this difficult market, with buyers' budgets close to 800,000 euros. Of the 6,500 second homes belonging to overseas owners in Burgundy, 4,300 are in these two departments. "Burgundy is attractive to people who want to invest in period properties," explains Caroline Gigandet.
Eve Farah - Eco Plus 21 - Du 4 au 10 Septembre 2008