Nineteenth century duplex in Beaune totally renovated
Sébatien RABATEL - TRAVAUX.COM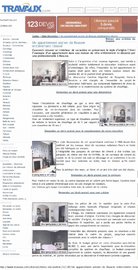 How can you renovate an interior while preserving its character and original style?
Here's one example of a Beaune apartment which has been professionally redecorated
After having bought a new home, the purchaser wanted a total make-over of the interior decoration before the family moved in. The potentially elegant duplex had last been painted 30 years previously and the ceilings had turned grey.
Interior decorator Caroline Gigandet of Burgundy Home & Services was commissioned to transform the apartment, a task which included the choice of furnishings and updating the central heating.
The need to modernize the gas heating gave the opportunity to benefit from new technology which involved moving the boiler from the ground floor to the attic, re-doing the plumbing in the process. A new generation condensing boiler was installed, the efficiency of which reduced bills by 40% over those being produced 25 years ago!
The pre-1900 Hausman-style duplex was enhanced by the works, which included custom-made arts and craft-era cast iron radiators.

All the wood floors and stone tiles were renovated. The oak parquet was sanded and re-varnished while the kitchen and hallway tiles were re-surfaced with an ionized wax to give them new radiance and ensure their impermeability.
For wall paint, white and light grey were the colors chosen. To enhance the floors the brand-new kitchen was done in a lacquered dark grey with taupe/grey wall tiles. Caroline was drawn towards a two-tone palette of colors in order to complement the vibrant floors.
In the communal areas, the furnishings chosen were a mixture of re-upholstered period armchairs and contemporary chairs from French designer Philippe Starck.

Upstairs, the spacious bedrooms have kept their original volumes. Caroline decided to re-do the period furnishings including a Napoleon III wardrobe which had glass doors replaced by a colorful casing.
Throughout the bedrooms, all decorative elements were coordinated, including cushions and curtain materials.
Ultimately, the total budget for this renovation was 80.000 €, with a large chunk of the money paying for the update of the heating system. The budget included the new kitchen, the decoration and much of the furnishings, some of which were redone by the interior decorator Caroline Gigandet.
Sébastien Rabatel - le 24/11/210 - TRAVAUX.COM
See pictures and read the press article