Caroline takes care of your new home in Burgundy Burgundy Home & Services
Newspaper - LE JOURNAL DU PALAIS - June 2008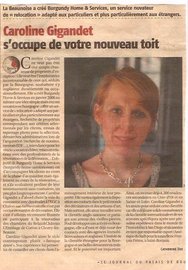 Article taken from JOURNAL DU PALAIS - June  2008
Caroline Gigandet can even take car of your roof!

Caroline Gigandet doesn't want to be just a high-end property finding service. She wants to be THE point person to go to for those who love Burgundy and want to set up home here on a part or full time basis.
She created Burgundy Home & Services in January 2008, following a simple but novel idea: to offer relocation services tailored to individuals, especially those from overseas. This includes property searches in-line with client requirements, sending photos of homes deemed suitable, management of the conveyancing process including hook-up to utilities and selection of craftspeople for renovation and decoration... for owners abroad.
The objective for Burgundy Home & Services (www.burgundy-home-services.com) is to help clients every step of the way when setting up home, from acquisition to renovation, enabling them to enjoy their investment headache free. 
Caroline Gigandet first started on a business career path with studies at EGC, a business and management school in Chalon-sur-Saône; however, she is no novice when it comes to decoration. She was recently involved in the renovation of bedrooms for the Relais & Château luxury hotel l'Ermitage de Corton in Chorey-les-Beaune. Caroline Gigandet loves, above all, a contemporary style which gives an impression of a simplified, uncluttered baroque. Her experience allows her to advise clients on their interior decor and home alterations, using her numerous contacts with local craftspeople and decorators to follow through the task. She enjoys the contact with overseas clients, communicating in English and sharing her love of old stone houses.
To develop her business, she has established contacts with British and Swiss real estate agencies. The attraction of Burgundy and its beautiful residences is growing and the potential is significant. There are already 4,300 second homes in the Côte-d'Or and Saône-et-Loire. Caroline Gigandet has many advantages for those looking to invest, already having solid experience working with international clients and understanding their expectations since working with a real estate agency in San Diego. Subsequently, she spent six years running barrel-maker  François Frère's exports to South America.

Catherine Zivi - Le Journal du Palais du 23 au  29 juin 2008.